New fotos.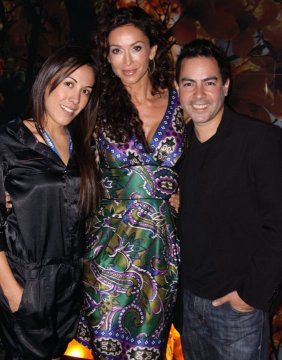 Jaime Aymerich and Sofia Milos.



Jaime Aymerich : Como Empezar Como Actor seminar 1 March 7_30pm at Celebrity Centre.



Jaime Aymerich. Fotos de Entrevistas en la feria de Libro de Guadalajara 2009





Feliz dia del Amor les desea su amigo Jaime Aymerich
Merry Christmas to Jaime Aymerich fans club
I wish you all the best for this Christmas with love and peace
and a most beatiful 2009!!!!
Kisses, Jaime Aymerich

Pictures of Jaime Aymerich in the soap opera Bold and Beautiful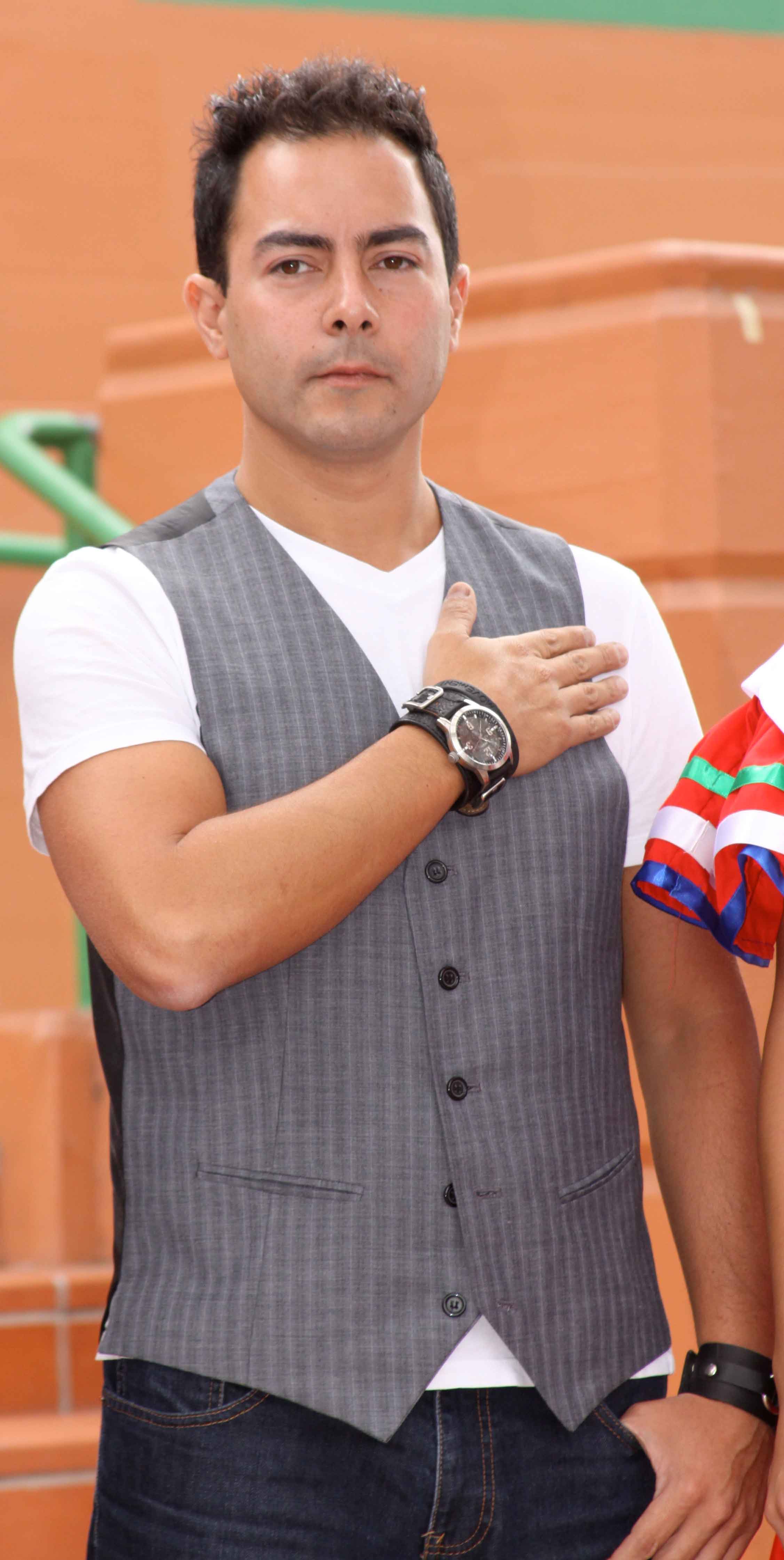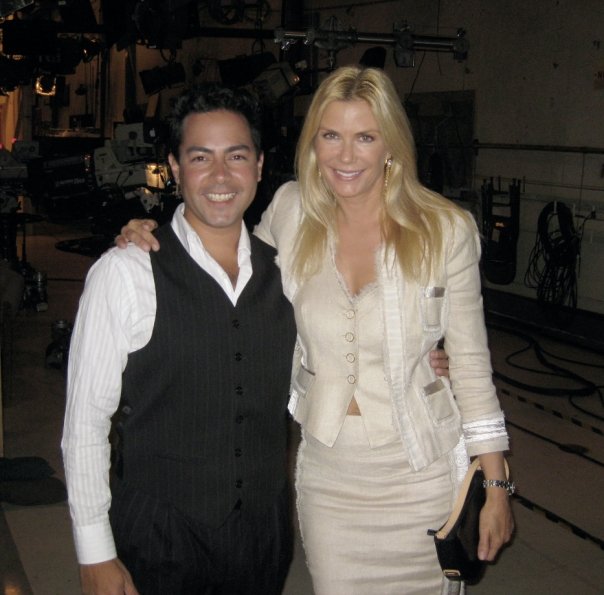 13 de Marzo, 2009: Jaime Aymerich protagoniza piloto dirigido por el Talentoso Director Nicolas del Boca.
En Hollywood el actor Jaime Aymerich filma piloto para serie de Television Dirigido por el Talentoso Director Argentino Nicolas del Boca y escrito por Enquires Torres (Las Tontas No Van Al Cielo, Al Diablo con los Guapos) a cargo de la produccion de Miguel Angel Rosini una serie de comedia pronto a estrenarse por una cadena famosa de Television Hispana.

27 de Febrero, 2009: Se estrena Hablemos de Cine Temporada 21 "Fresa y Chocolate"
En Hollywood Jaime Aymerich y Gema del Toro estrenan la temporada numero 21 del exitoso programa "Hablemos de Cine" que fuera conducido por Jorge Elias y Humberto Luna 20 temporadas. El programa ofrece lo mejor del septimo arte, Entrevistas con Actores, Productores, Directores, Detras de las Camaras, Premiers, Alfombras Rojas y lo mejor del Cine.


El extraordinario Jaime Aymerich es anfitri en "Hablemos de Cine"

Una agradable revelacion en el mundo de los presentadores de television en espanol en Estados Unidos, es sin duda Jaime Aymerich en el programa "Hablemos de Cine". Este joven talento, se desenvuelve perfectamente en ingles y en espanol, lo que le da la facilidad de hacer extraordinarias entrevistas a los mas destacados actores de la meca del cine, Hollywood. Ademas, el muchacho demuestra una gran creatividad y dominio ante las camaras de television con su atinado sentido del humor, del cual muchos detalles son producto de la imporvisacion, un factor poco comun en estos dias en los medios masivos de comunicacion. Pero hablar de Jaime Aymerich, es tener que encontrar una larga lista de exitos en todo tipo de escenarios, ya sea en los sets de las mundialmente famosas telenovelas mexicanas fabricadas por Televisa, en los tablados de teatro, donde se ha forjado al lado de los mas prestigiosos actores y el dificilisimo mundo del cine, y cuando digo dificilisimo, hablo de la combinacion de la disciplina histrionica, con la responsabilidad de terminar una escena en el menor nero de tomas posibles y esto aunado a la feroz competencia que los miles de actores que llegan a Hollywood ofrecen. Sonaran menos exageradas mis palabras cuando usted mire la historia arttica de este carismatico joven a quien aun aguardan grandes retos y supongo, por su trayectoria, grandes exitos. Por ahora toca a la audiencia hispana estadounidense disfrutar de esta nueva faceta de Jaime Aymerich como anfitrion de "Hablemos de Cine" en su temporada XXI, denominada Fresa y chocolate que da continuidad a una larga historia entre el publico hispano y las historias del fabuloso mundo del cine hollywoodense.
Eduardo BLANCAS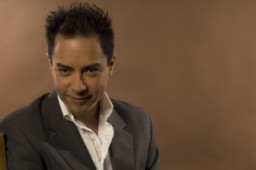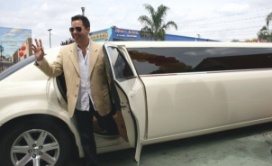 17 September, 2008: Jaime Aymerich hosts "Fiestas Patrias" at Placita Olvera

On September 15, Jaime Aymerich shared the stage with Guillermo Huesca by hosting the grand "Fiestas Patrias" event, which commemorates different Latin American countries independence from Spain. More than 50,000 people assisted to witness the huge diversity of Latin talent and to enjoy the celebration. The event took place at the important and traditional Placita Olvera located in the heart of Los Angeles, California.

December 25, 2008: Actor Jaime Aymerich present in Christmas Holidays

During Christmas Celebrations in the city of Hollywood actor Jaime Aymerich was present as a Host of one of the stages of "The Santa's Christmas Parade" and saying goodbye to the 2008, Jaime Aymerich attended as a Judge of the "Taste of the Americas Dancing Contest"
Jaime Aymerich :How to Book the Job, How to Get on Set seminar 4 Nov 7_30pm 2009 at Celebrity Centre.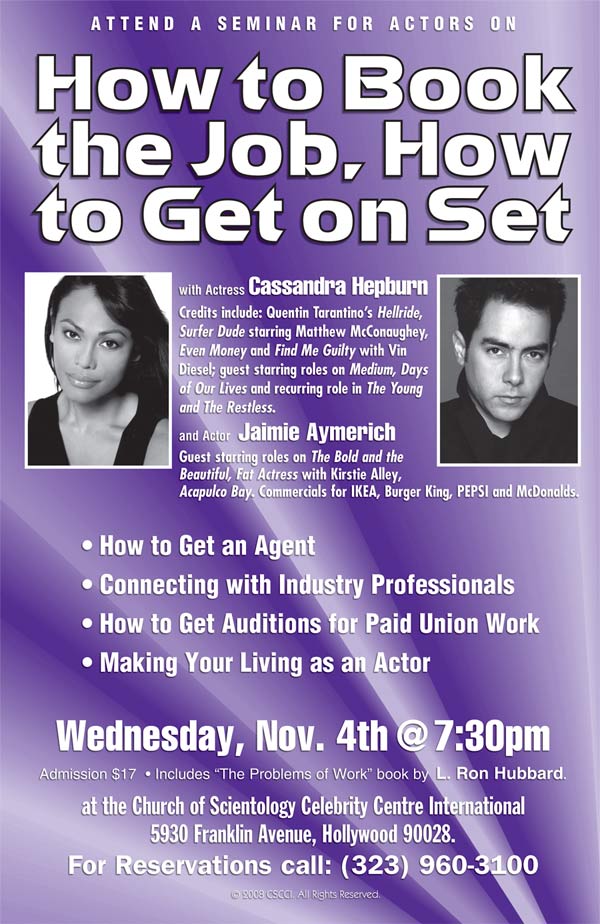 Jaime Aymerich : Como Empezar Como Actor, Martes, Octubre 6, 7pm. 2009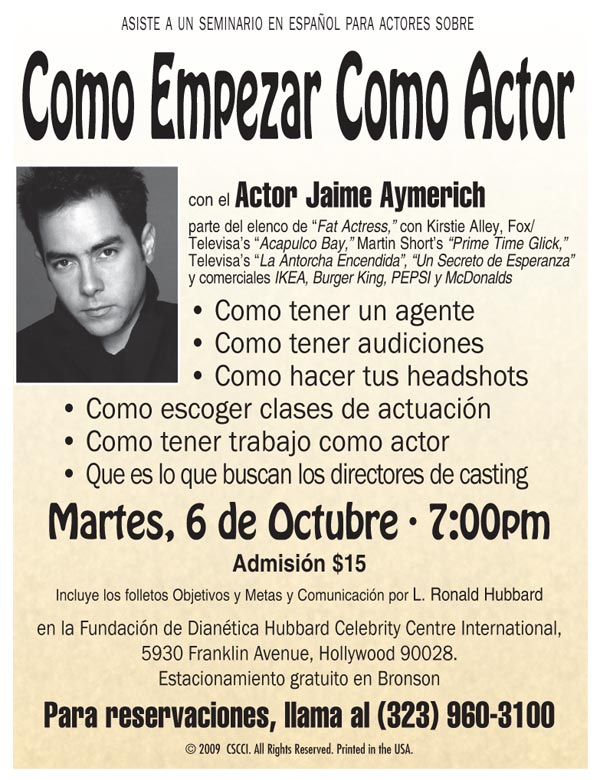 Today 10 march 2009 Jaime Aymerich in Latin Industry seminar at Celebrity Centre
JAIME AYMERICH "COMO EMPEZAR Y TENER EXITO EN EL MUNDO ARTISTICO" 29 October 2008
JAIME AYMERICH "COMO EMPEZAR COMO ACTOR" SEMINARIO CELEBRITY CENTER INTERNATONAL : LOS ANGELES 10 MARZO 2008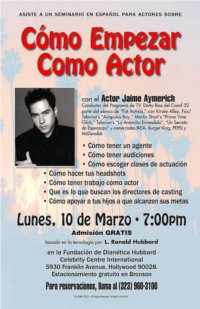 Jaime Aymerich Como Tener Exito en la Industria del Entretenimiento 1 October 2008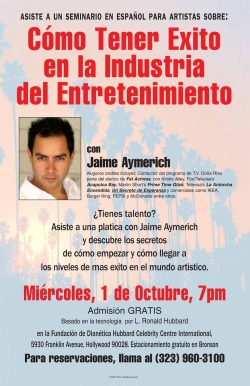 INTERVIEW OF THE DIARIO DE SAN DIEGO TO
JAIME AYMERICH
INTERVIEW Jaime Aymerich en busca de sus sueños
CHANCES ARE JAIME AYMERICH 'S MOVIE
AUDIENCE AWARD ON THE BIG BEAR
LAKE FILM FESTIVAL 2007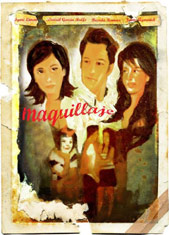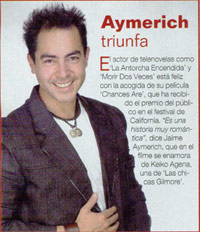 THE SPANISH MAGAZINE TELENOVELA WROTE ABOUT JAIME AYMERICH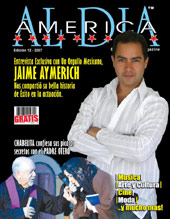 30 LUGLIO, 2007: WORLD PREMIERE OF "MAQUILLAJE"
JAIME AYMERICH'S FILM
AUTORIZO EL CLUB OFICIAL DE FANS DE JAIME AYMERICH DE
CALIFORNIA CON MUCHO AMOR JAIME AYMERICH

YO AUTORIZO A DONATELA OLIVERI COMO PRESIDENTA DE MIS
CLUBS DE FANS EN EL MUNDO
HAPPY NEW YEAR 2007 DESIRE THAT ALL THEIR DESIRES ARE FULFILLED AND
THAT IS MAS EARTH
UNDERSTANDING A HUG JAIME
HAPPY ANNIVERSARY TWO YEARS, WENT FAST BUT THE FRIENDSHIP IS FOR EVER
THANK DONATELA JAIME AYMERICH
"On the day we can fully trust each other, there will be peace on
Earth." - L. Ron Hubbard
THANK YOU
Thank You For leting me be, When I was down, And there was no one to
talk to, And my suffering was deep, You shared your hand with me,
Thank you For understanding My truth, When no one seemed to listen,
And confusion was on me, Thank you For giving me a chance, To live
again, And help me to open my eyes when I was blind, For not letting
me die, When the battled seemed lost to me, For sharing with me The
happiness that I have Thank you
Jaime Aimerich